The Valley Ultimate Steering Committee met last week. Over some fantastic appetizers we discussed YCCs, the summer hat tournament, the website, and how to best move forward over the summer.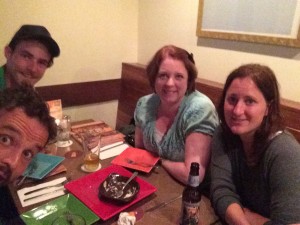 The main points we covered were:
YCCs/U-19 Summer Youth League: Dan and Tim are working hard to pull all the details together. Kids can learn more about how to register right here. As always, fields are an issue, but Dan and Tim are working on it.
Summer Hat Tournament: Cory will be sending out an update soon.
Valley Ultimate Disc: Megan will be continuing her work to digitize the logo she came up with. We'd love to print at least 50 Valley Ultimate discs this summer.
Website: Lex is going to start helping update the website. Also, the Where Can I Play? page is now open to editing by anyone.
If you'd like to contribute to these or any other Valley Ultimate efforts, please email josh@valleyultimate.org.
The next Valley Ultimate Steering Committee meeting will be on Tuesday, 7/1 from 7 to 8pm at the Northampton Brewery. Anyone with any interest in helping propel Ultimate in the Pioneer Valley is highly encouraged to attend.